Welcome to B-K Quarter Horses! You've found Northwest Missouri's home of working horses that are bred to do anything, and prove it year after year.
We are blessed to have an own son of Shining Spark out of a daughter of Smart Little Lena as our stallion. Shining Spark's dam, Diamonds Sparkle, is an AQHA Hall of Fame mare and appears a second time on Shining Moneymaker's papers as his grand dam on his dam's side making him double bred Diamonds Sparkle. Other notable horses on Shining Moneymaker's papers include Genuine Doc, Doc Bar, Mr Diamond Dude, Blondys Dude, Peppy San, Royal King, Doc O'Lena, Zan Parr Bar, and Sparkles Suzana.
Through the years, we have also discovered crosses that have been successful in producing working horses and show horses with the conformation and eye appeal that are so in demand. Macriffik, owned by Ernest and Brenda Wederquist, has played a key role in combining the eye appeal, size, and athleticism when crossed with today's exciting cutting and reining bloodlines. We have also been very pleased with our foals by the spectacular blue roan Western Pleasure sensation, My Final Notice, owned by Riverside Ranch. These two, Macriffik and My Final Notice, are just a couple of examples of crosses we have meticulously planned for our mares in the past to ensure that our horses excel in a variety of disciplines, from reining to roping to halter and western pleasure!
Each year, we sell some of our horses at Triangle Sales in Shawnee, Oklahoma. The quality of our horses has earned our right to sell in their January sales. We have many repeat buyers as well as new buyers each year. Our horses have been amongst the top sellers at Triangle Sales, including King Badger Macrif (by Macriffik), who was in the Top 15 at that sale. Another horse, Goldfinger Valentine (by Blue Yahooty Hancock) was described by Triangle's office manager as "unforgettable," due to the sheer number of calls and e-mails they received when the catalog was published. We feel blessed to have the recognition and success through Triangle Sales, and enjoy meeting buyers that purchase directly off our farm.
We have tested our breeding stock via AQHA's Genetic Disease 5-Panel test. This panel test is $40 less than testing for individual diseases. It automatically includes HERDA, GBED, HYPP, PSSM1, and MH, whether those individual tests are needed or not.
Please stop by and visit us at our "real life" location if you're in the area, or if we have something you are interested in.

Shining Moneymaker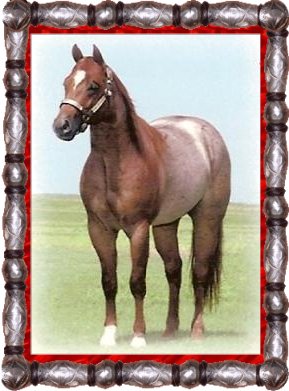 Own son of Shining Spark out of a daughter of Smart Little Lena!
DNA tested Negative for all 5 diseases in the AQHA panel:
GBED N/N, Herda N/N, HYPP N/N, MH N/N, PMSS1 N/N.

Macriffik
Frozen Semen Available!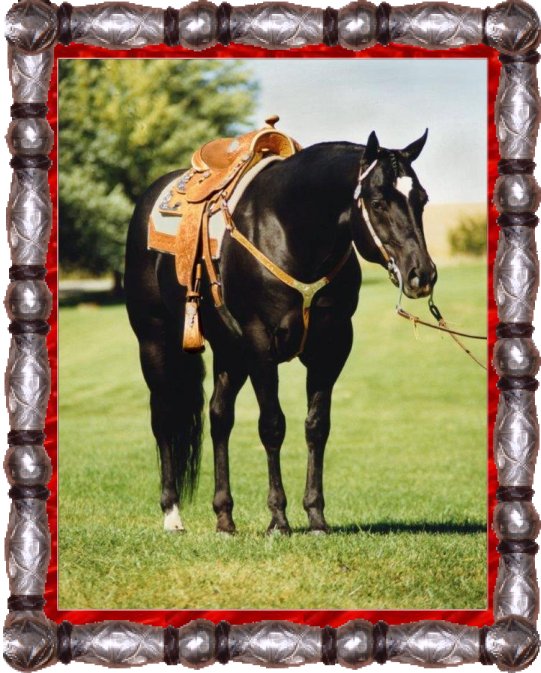 AQHA 5-Panel Disease Test Results:
GBED N/G, Herda N/N, HYPP N/N, MH N/N, PMSS1 N/N.

Macriffik Sherman
Reference Sire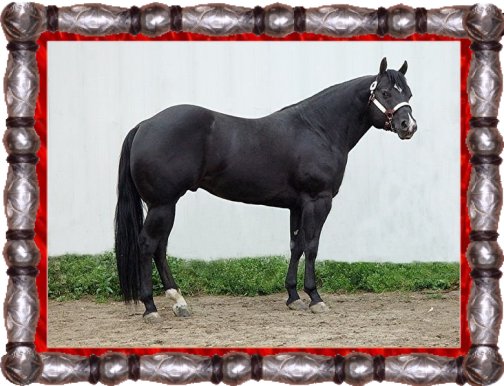 Please bookmark us and visit again soon!